Mi閞coles, 23 de mayo de 2018 - 3:36 horas

PUBLIC INN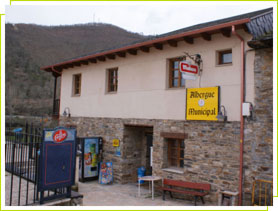 Contact
+34 687 82 79 87.
albergue@trabadelo.org
Capacity
6 bedrooms with bunk beds. 36 persons.
Price
5 聙 per person per night.
Services
Taxi (+34 689 89 48 17). Bar cafeteria.
Fittings
Television, Chimney, Bathrooms, Kitchen, Washing machine, Tumble dryer.
Closed
December, January and February.
Since 2006 the hostel has been managed by the town council with tireless efforts and a continuous commitment to guarantee the good quality of the services offered to the pilgrims, respecting their needs and requests.
Its ideal location in the centre of the village, in front of the town hall, offers the pilgrims an easy and direct access to the general practitioner, the chemist聮s, the bar, where they may have breakfast and a varied range of sandwiches, as well as the only official taxi of Trabadelo. In the event of non-availability, pilgrims may find in the hostel the phone numbers of the other official taxis of the surrounding villages.